New update brings Fade to Black
02.06.16 - 21:01
This latest patch is a breakthrough in gameplay, according to Valve, and brings with it a few much needed changes to CS:GO. Aside from the above mentioned change, spectating has become a lot smoother with reduced spectator freeze-time, from five seconds to three.

There will also be a fade and blur upon death of a player for spectators, and a more "aggressive" fade and blur for players killed by a headshot. These improvements are crucial to better CS:GO's spectating experience, a fantastic initiative to ensure longevity for the eSport.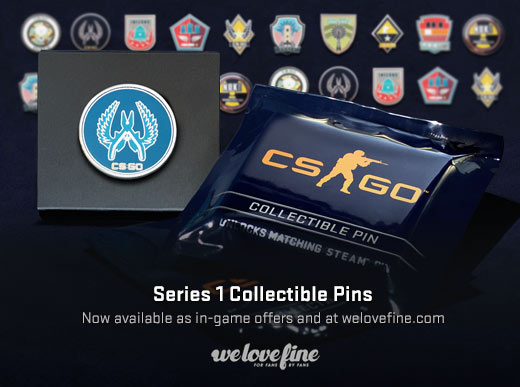 ---
Death Cam with new effects

That last is a big deal for tournaments as it removes the problem of offensive or confusing weapon names and player titles during tournaments - everyone will always have the correct name when the most eyes are on the game. A moment's confusion can easily make a new spectator tune out, and this avoids that.
---
API für große Turniere

Introducing Authentication Codes that allow users to grant to third-party websites and applications access to their Pick'Em and Fantasy games during CS:GO Major Championships.

Documentation for websites and application developers is available.
Authentication Codes management for users is available.
---
CS:GO Pins

Valve have also added a new cosmetic feature called "Pins" for traders. Pins have in the past been limited to those who purchase them at Majors, but from June 1st you will be able to purchase them online, or via the Steam store, and add them to your physical CS:GO collection.

Added the CS:GO Collectible Pins Series 1 capsule offer that can be purchased in-game.
As of June 1st, Series 1 Genuine Collectible Pins will be available at WeLoveFine.com


---


CS:GO Update 01.06.16 Changelog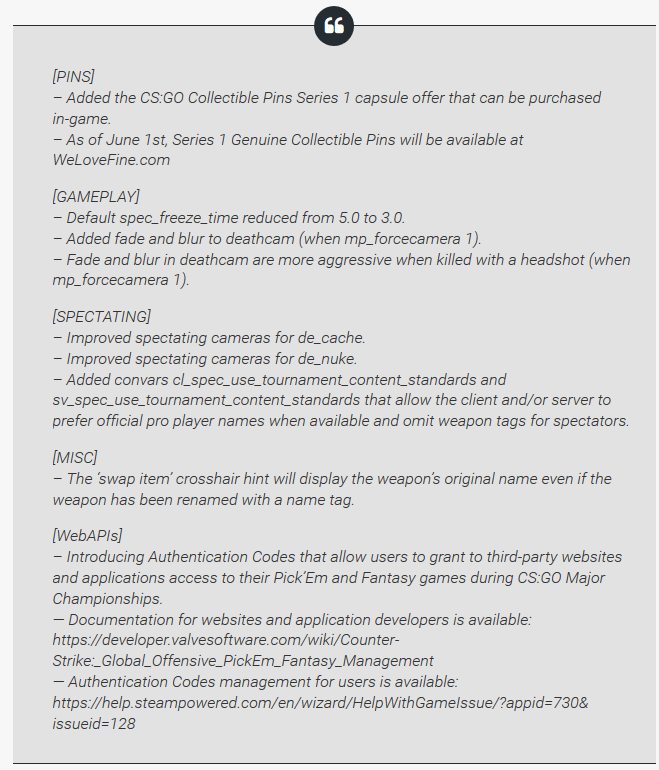 Author: MA|Katja
Please login to write a comment. LOGIN